On Wednesday, Hoss followed through with his promise of a birthday dinner at
Bonefish Grill
. We started with Bang Bang Shrimp, which is lightly fried and served in a creamy, spicy sauce. Fabulous! We ordered cocktails, but I made the mistake of going with a fruity white sangria, which was much too sweet. I changed to a
Riesling
instead and that paired well with the rest of the meal.
I ordered one of the evening's specials, Flounder Marsala with shrimp and bay scallops. Hoss went with a shrimp fettuccine. Our sides were pumpkin ravioli, steamed fresh veggies, and a small loaf of fresh, warm French bread. Obviously, we left the healthy eating goal behind in the truck.
We were eating a few hours earlier than usual and knew we'd want to munch later on, so we took two appetizers home with us: bacon-wrapped sea scallops and Wagyu Beef and Ginger Dumplings (our server wrapped up another loaf of bread and put that in the go bag, too). That decision turned out to be genius; by the time our regular dinner hour arrived, we were ready for more Bonefish flavors.
On Thursday, we decided to take in
a movie
at the cinema just down the street from where we were staying. The name took us by surprise, though. "
Movie Tavern"
? As in, movies and beer?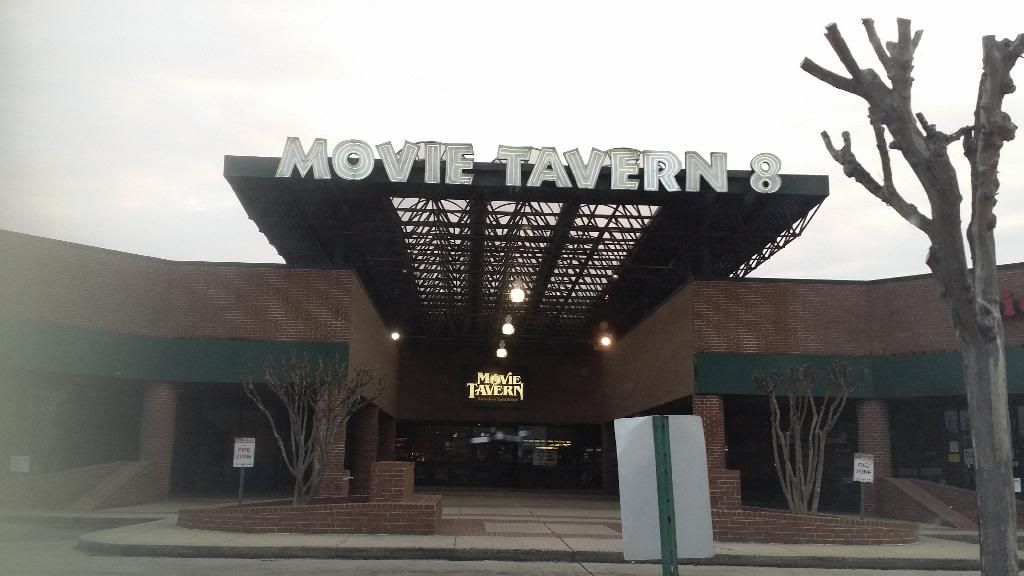 That's exactly what it turned out to be. The theater seating includes small cocktail tables. A waiter brings you a menu with a surprising variety of casual dining options, including appetizers, salads, pizza, sandwiches, and desserts. They offer a kid's menu with kid foods and drinks, and - get this - they serve breakfast on weekend mornings. Their adult beverage menu offers bottled and draft domestic and imported beers, wines, spirits, and cocktails. The food - we ordered boneless Buffalo wings and a chicken quesadilla - was fresh and darned tasty. We split a bottle of wine (the same Riesling as the night before), and it arrived in a bucket of ice. If you're thinking plastic cups and paper plates, don't. All food and drinks arrive in real restaurant quality serveware. Nor was it expensive. Our matinee tickets were five bucks each, the food came to less than twenty, and the wine was no more than we'd have spent in a restaurant. I want to permanently rent a seat and just move in.