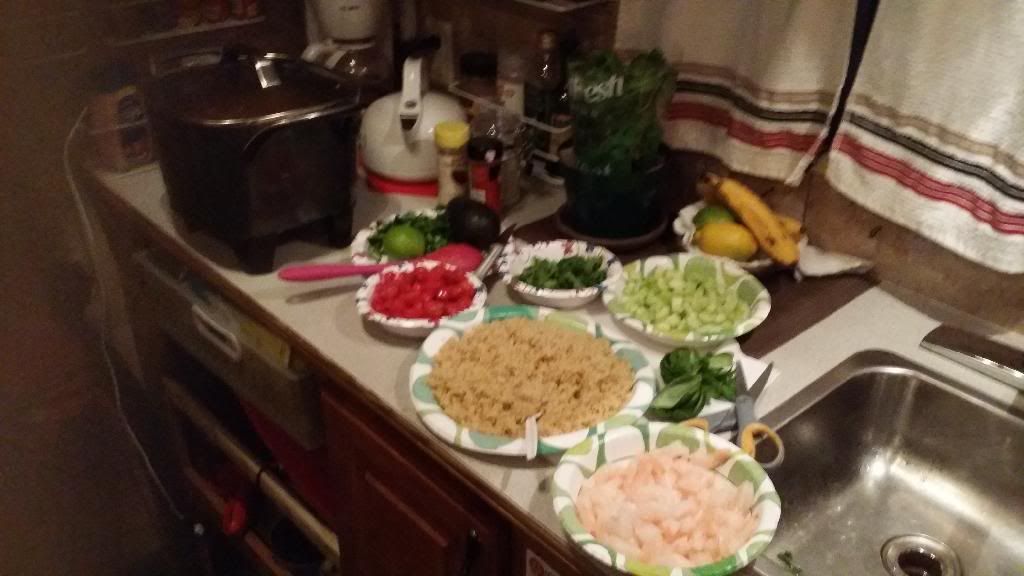 Last night, my kitchen was chock full of wonderful aromas. That's Chicken Tortilla Soup simmering happily on the left, while the ingredients for a Quinoa Tabbouleh are prepped in the foreground.
As I assembled the soup, I mistakenly grabbed a can of tomato puree and had it open before I realized it wasn't whole tomatoes in juice. But I poured it into the pot, anyway, and was surprised how much body it lent the finished soup. It's going to be a permanent substitution henceforth.
Tabbouleh is one of our favorite salads. It's easy to prepare, full of bright flavors, and it's a tasty accompaniment to the sandwiches we fall back on when we're busy. Hoss suggested using quinoa in place of the usual bulgur. We gave it a try, and again, I think it's going to be a permanent swap. Although cracked wheat isn't a nutritional sissy by any means, quinoa's low glycemic index is a healthier option for him. Bonus! Since I had cilantro on hand for the soup, I subbed cilantro and basil for the usual parsley and mint.
Here's the version I made:
Quinoa 'Bouleh
3 c. cooked quinoa, cooled
1 lg English cuke, peeled & diced
1 pint grape tomatoes, halved
3/4 c. cilantro, loosely packed, chopped
1/2 c. basil, loosely packed, chopped
Combine the first six ingredients, then whisk the remaining ingredients together. Toss the dressing with the salad. Serve at room temp or chilled.