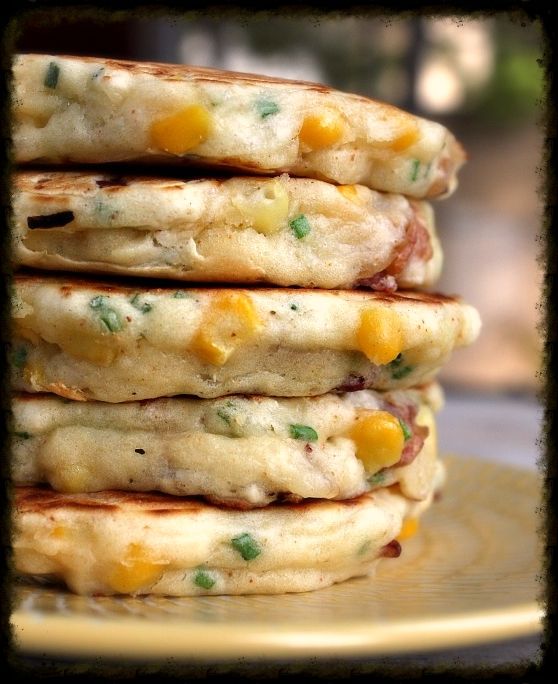 If you cook only one thing from scratch this month, make it this recipe. You'll thank me.
1 pound bacon, sliced crosswise into 1/2" pieces
1 large onion, finely diced
1 1/2 cups flour
3 T. fresh chives, minced
1 t. baking powder
1 t. garlic salt
1 c. milk
1 egg
2 T. olive oil (or be bad and use bacon grease!)
1 1/2 c. corn - see instructions
1 c. Jack cheese, shredded
maple syrup, optional
In a large skillet, cook the bacon until crisp. Remove the bacon and drain on paper towels. Pour off all but a tablespoon of the bacon fat. Return to the stove and saute the onion until softened. Remove from the pan and toss together with the bacon. Set aside.
Combine the flour, chives, baking powder, and garlic salt in a medium bowl. Add the milk, egg, oil or bacon fat; stir briefly to combine.
If corn is in season, it's well worth your time to cut it fresh from the cob and use it raw. The sweetness of the fresh corn will amaze you. But you can substitute thawed frozen corn or canned corn, if necessary.
Fold the corn and half of the bacon and onion mixture into the batter.
Bring a greased griddle or skillet to temp over medium-high heat. Create griddle cakes using about 1/4 cup of batter for each. Cook until golden brown - about 3 to 4 minutes - then flip and cook the other side.
Serve with a generous spoonful of the bacon and onion mixture, as well as a spoonful of Jack cheese. Top with syrup, if desired.