On occasion we all come across a recipe that haunts you until you cave in and cook it. Sometimes, this results in a new family favorite. And once in a while, it turns out to be your next Project.
My poor kids ate a variation of Key Lime Pie for two solid months as I sought to recreate a recipe from a restaurant I'd visited. I finally came close enough to the original that, satisfied, I moved on to another Project. I'm sure the kids were quite relieved.
A week ago I encountered a recipe on my favorite food blog that I had to try, a baked spaghetti squash casserole that mimicked a much heavier, carb-y, fattening dish: Spaghetti Carbonara. I knew from the ingredient list that I could bring down the fat grams even further, without sacrificing any of the flavor.
Enter the Carbonara Project.
On the first pass, I faithfully followed the recipe. Surprisingly, the recipe called for cooked spaghetti squash to be tossed with wet ingredients and then baked for 45 minutes.
Hold on. In order to get that squash to produce spaghetti-like strands, I have to steam it to the stage of being fully cooked. And now it's to be baked in a custard for three quarters of an hour?
Not surprisingly, the finished product was a dish of mush. Tasty, but mush nonetheless. The subtle squash flavor was present, and here and there an intact squash strand appeared to remind you that this is a spaghetti knockoff. But ... disappointing. It needed texture, something that would stand up to two periods of cooking, yet mild enough to not usurp the Carbonara flavor medley.
Enter cauliflower. Mild, low cal, low carb. Perfect: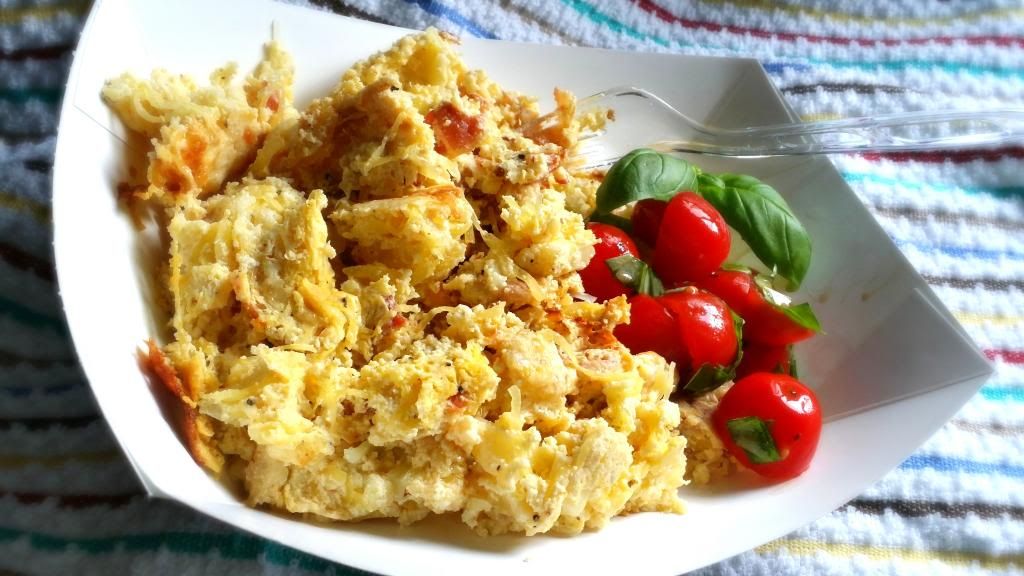 1 spaghetti squash, about 3 pounds
1 large head of fresh cauliflower
12 ounces bacon, diced (substitute turkey bacon for fewer calories)
1 small onion, diced
4 large eggs (substitute liquid egg product for fewer calories)
12 oz ricotta cheese (substitute low fat or fat free for fewer calories)
1 1/2 cups Italian cheese blend, divided (substitute a lower fat Italian cheese blend for fewer calories)
1 teaspoon salt
1 teaspoon black pepper

Scrub the squash, then stab deeply with a large knife several times to allow steam to escape. Microwave on high, turning frequently, until the squash surface gives to a firm squeeze, about twelve minutes. Remove from the oven and set aside to cool enough to handle.

Using a sharp knife, separate the washed cauliflower into thimble-sized florets. Place in a microwave safe bowl with 1/3 cup of water, cover, and microwave on high for three minutes to partially steam. Remove from oven and set aside.

In a heavy skillet, cook the bacon over medium heat until the edges crisp. Add the onions and cook for 5 to 6 minutes or until soft and beginning to brown. Remove from the heat.

Place the eggs or egg substitute in a small bowl, then vigorously stir in the ricotta. Fold in the cooked bacon and onions, then 1 cup of the cheese, grated, and the salt and pepper. Set aside.

Slice the slightly cooled squash in half lengthwise. Scoop out the seeds and rough membrane and discard. Using a fork, scrape the squash into spaghetti like strings. Place in a large bowl and set aside.

Drain the cauliflower, then add to the bowl with the squash. Add the sauteed bacon and onion to the vegetables and toss together. Add the egg and cheese mixture, toss together, then turn into a shallow 2 quart greased casserole. Top with the remaining cheese, then bake at 350 degrees for 30 minutes or until set.
Flavor. And texture. No mush.
You're welcome.